This site uses cookies to provides services, personalise adds and analyse traffic. Information on how you use this site is shared with Google. If you use this site you agree with the use of cookies. Sorry to bother you with this annoying banner. European law says we have to. Click the "I get it" link to hide this message.
Deze site gebruikt cookies om services te leveren, advertenties te personaliseren en verkeer te analyseren. Informatie over je gebruik van deze site wordt gedeeld met Google. Als je deze site gebruikt, ga je akkoord met het gebruik van cookies. Het spijt ons dat we u met deze irritante banner moeten lastig vallen. Iets met nieuwe Europese wetgeving. Klik op het "I get it" linkje om deze boodschap te verbergen.
More info...
|
I get it
Foto's Theo Modder Pseudoplatystoma fasciatum (Tijger spatelbekmeerval )
Pseudoplatystoma fasciatum
(fb)
© Theo Modder
15-04-2017 00:53:18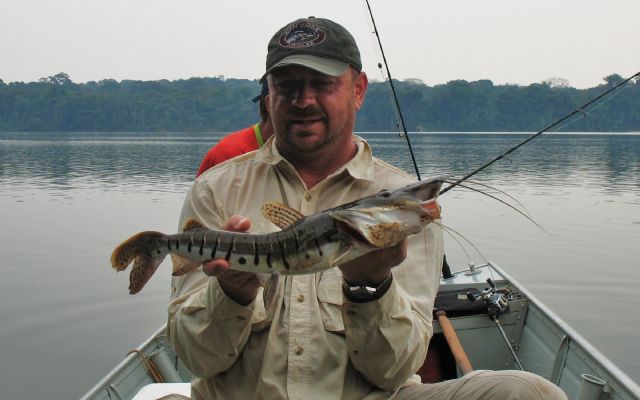 picture properties:
year taken :
2010
country :
Brazil
notes :
Distinguished from P.tigrinum by black vertical bars without
diversions.
reacties (5)
16-04-2017 14:44:53
Ben Cantrell zegt : Don't let it stab you in the leg!!

16-04-2017 16:47:19
Theo Modder zegt : Haha, did it get you ?

17-04-2017 04:14:53
Ben Cantrell zegt : Yes, the barb broke off inside my leg and had to be removed from the other side by surgery.
17-04-2017 17:10:06
Frank Habets zegt : Great story Theo. You can find it at Facebook.

20-04-2017 04:49:37
Theo Modder zegt : Auch ! Sorry to hear, I hope you took revenge by eating it, They taste great !

---
---